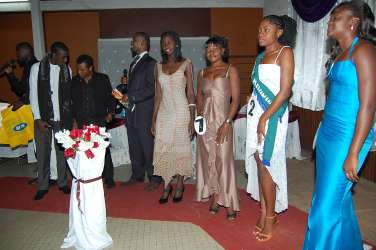 In the present context of socio-economic hardship, Cameroonian youths have been told time without number to explore their talents. Many of them are quite talented and willing to make use of their God-given skills. But this can only be done if the environment is enabling. This means that they should be given an opportunity to showcase their skills. One of such opportunities exists - Arabian Nite.
Arabian Nite is an entertainment platform, made up of over 200 youths with diverse skills. Created in 2005 by Kingsley Sumba, a renowned comedian and marketing expert, Arabian Nite is aimed at building and marketing talents. The agency refines raw talent and prepares skilful youths for employment.
"We work on the premise that man is the number one capital," says Sumba. "That is why the most important resource is human," he adds. Sumba further explains that there is much to tap from youths, many of whom are incredibly talented.
Each month therefore, Arabian Nite based in Bamenda, organizes an event where rising musicians, comedians, models, actors and marketing agents display their know-how to the acclamation of the public. The agency is currently organizing a monthly beauty contest which will culminate with the election of Miss North West in December 2009. Sumba explains that the Arabian Nite Miss North West will automatically bear the Flag of the region at the national final next year.
Four years on, Arabian Nite can boast of a number of achievements. Sumba says 20 youths from Arabian Nite have picked up lucrative company jobs, including Mojoko Ewane, now air hostess with a prestigious Nigerian travelling agency. "The current Miss Cameroon, Joèlle Audrey Amboague and Miss North West, Bih Nathalie are Arabian Nite products," he revealed.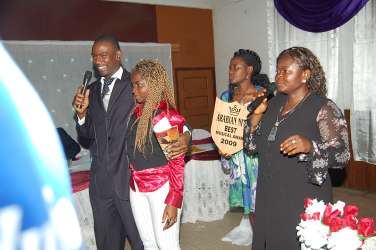 The regular English-speaking MC of the annual film festival, "Ecrans Noir," Ayafor Josiane hailed from the agency, AY was told.
Arabian Nite, according to its coordinator has grown from lips and bounds, especially with promising artists such as Landlord (comedian), Emma C Jay (singer) and Roland (film director). "Cameron and the world will feel them soon," Sumba promises.
The last edition of Arabian Nite took place in Yaounde last Friday and brought together music as well as modeling fans. We also spotted cae Cameroonian female singers, Anne-Marie Ndzie and Marthe Zambo. Both women hailed the young musicians. Details of Anne-Marie's benediction on rising singer, Vehany in subsequent updates.
Meantime, a special edition of Arabian Nite will take place in Bamenda from 29-31 December 2009. A Miss Arabian Nite 2009 is expected to be elected.