Another huge film production has just happened. The place is Yaounde. The month is September. The year is 2009. We are in Cameroon. For 11 days, a group of young Cameroonian film makers showcased their skills in the various aspects of the art. From producer Ayi Chatoua Inoua, director Neba Lawrence to the actors, the young boys and girls displayed a mastery of the game. Their Nigerian guests, Emeka Ike, Tonto Dike and Kalu Joyce were visibly overwhelmed. For one thing, organisation was great. Production manager Serge Ngouffo and production coordinator, Agbor Steve, got a thumps-up reply from the entire team. It was a Herculean task, but he went through the eye of the needle. Tiptopstars was awake through out the shooting. Our camera and recorder could not miss out on certain issues. Here are the highlights:
Emeka Ike, Nice Person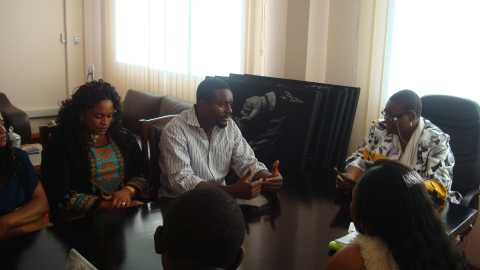 Many mega showbiz stars are arrogant. I have always tolerated them for that because I understand the pressure they go through, having to deal with huge crowds each time they are exposed. But that was not the case with Emeka Ike who was the centre of attraction during the shooting of the Ayi Chatou movie. The Nollywood stars turned out to be different. Not only was he humble, he shook hands with everybody, listened to them and accepted to be available for any assistance. He expressed gratitude for the reception given him, especially to those who hosted the production team. The Nigerian actor posed with every body who wanted a snapshot with him and as many times as possible. "Oh my God, he's a nice person," an Emeka fan exclaimed soon after posing with him. Before leaving Cameroon, the actor gave his address to whoever needed it. Someone scored him 10/10.
Emeka Attracts Mammoth Crowd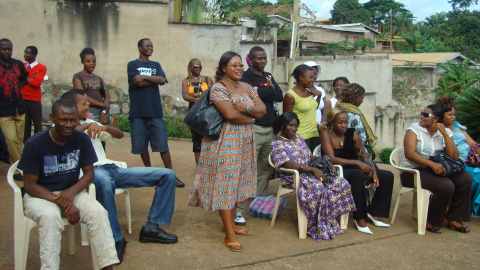 Large crowds are not a common phenomenon at movie locations in Cameroon. That is probably because many people are yet to accept that movies are shot in Cameroon. They think it only happens in Nigeria or elsewhere. But when Nollywood's Emeka Ike checked in, the scenario was different. Crowds were noticed. People who had heard the Nigeria star was in town thronged locations each day to have a glimpse and why not take snapshots with him. This reporter's phone kept ringing. "Please, where are they shooting, I wish to see Emeka", "Please, can you take me to where Neba Lawrence is shooting" "Emeka is in town and you don't let me know". More of such calls came. Some of the onlookers came each day till the actor left for Nigeria. It is hoped that Cameroonian locations will become a sensation, even without foreign stars coming there.
Tonto, Not too Patient!
Visiting actress, Tonto Dike was excellent on set. Everyone fell in love with her performance. The talented actress delivered. She was exact and hardly slipped, even when she rehearsed only a little. When the script called for tears, Tonto gave her director in 45 seconds. Her articulation was impeccable. Her role will be pretty spicy in the movie. But she lacked one thing - patience. A couple of times, the actress could not control her flaring temper. She did not find the few delays (normal with huge productions) funny and would shout before realising she didn't have to. However, during her last days in Cameroon, we spotted Tonto several times relating kindly to people on location. She would smile, pose for snapshots with everyone and hug her fellow actors. All was well that ended well! No qualms!
Mode a là Joyce Kalu !
Her costumes caught our attention. Scene after scene, the Nigerian actress displayed gorgeous Yuruba laces, clad on her body. The well-sewn dresses fitted the actress so well that someone commented (in pidgin): "Da remé di tie skin" (meaning, that woman dresses well). Kalu's beautiful outfit is definitely one of the things that will make the Ayi Chatou movie glamorous. This is thanks to Agbor Steve and Fokwa Odette who made them available.
Maestro NG 1 Wins Hearts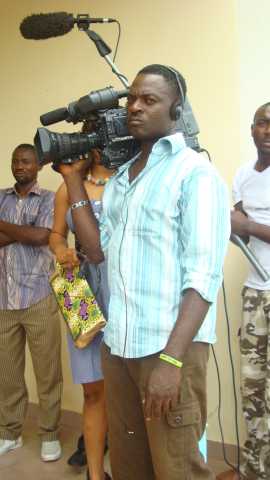 The Ayi Chatou Inoua production cannot be discussed without mentioning Ngozi Nkebakue (NG). He was centre of attraction whose expertise everyone admired. The Nigerian award-winning D.O.P (also the president of the Nigerian Society of Cinematographers [NSC]), displayed a mastery of the art. What caught our attention was his speed. Not later were actors on set before NG 1 would shout: "Let's go...spe-e-e-e-d". His swiftness speeded up the process. Away from that, NG fed the people around him with delicious stories about Nollywood. His stories attracted interest and stirred laughter. He was a nice person, but strict when his camera starts rolling.
Emeka Taken Ill
"If France coughs, Europe catches cold". My European History lessons vividly come to my mind. The Ayi Chatou Inoua production almost caught cold for one or two days when Emeka caught a slight fever. His scenes had to be suspended till the Nollywood actor recovered (though not completely). Emeka was immediately rushed to the hospital where he was attended to. Some hours later, the star was on his feet again and shooting continued. On his sick bed, the visiting Nigeria actor received calls from his hosts, wishing him quick recovery. Before departure, he was very healthy.
Ayi Chatou & Her Calm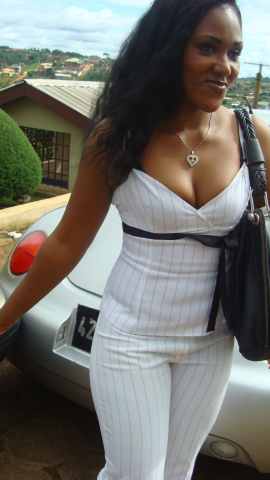 In the midst of certain production hurdles, producer Ayi Chatou Inoua kept her calm. She criss-crossed Yaounde to ensure everything was in order. And even when things became difficult at times, she would hold herself and pray they were sorted out. For a young producer in her maiden production, Aicha, as the UNIYAO II is affectionately called face the challenge bravely. It was a great experience and lesson for her. "We need to support her, she is one of us," Agbor Gilbert kept insisting. The film makers were unanimous on this and were elated she displayed enormous responsibility throughout the production. Kudos Aicha!
Nche Francis On Set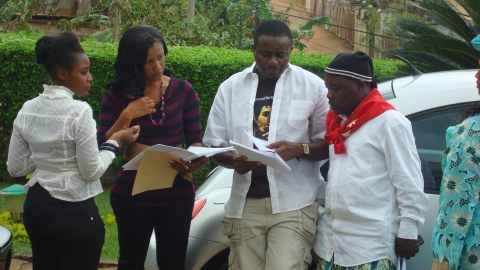 He is a pioneer in the Cameroonian film industry. Nobody can talk about distribution without mentioning him. He is the proprietor of Magic Touch Videos, the number one film distribution outfit in Cameroon. He is known to all and loved by every body. He is amusing all the time. Recently Nche Francis announced he was coming on set. "I want chop producers their money too", he said in pidgin, meaning he wanted to be on producers' pay roll as well. He was not joking. Indeed, Nche came on set in the Ayi Chatou Inoua production. All eyes were on the popular Cameroonian film stakeholder. As one of the members of the council of elders, Nche performed brilliantly and was applauded. Clad in Bakossi traditiona l attire, the distributor cum actor gesticulated, turned around, raised his voice and then, nodded his head in total agreement as village council elders would commonly do. The rest of the tale will be told when the movie is released. Welcome on board acting Francis!
Mamfe Presence Felt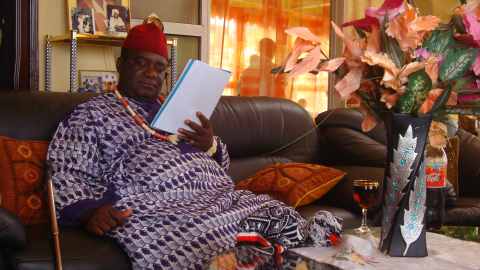 The presence of a cream of Mamfe actors was greatly felt. Eyong Quinta, Janvier Ngongang, Eyo Eyo Michael, Tabe Oben and Aaron Nkongho reminded onlookers and producers of the movie that Mamfe was alive. "I'm quite elated with the performance of Mamfe actors," said a Yaounde actor. For one thing, the actors from Mamfe were very polite, humble, committed, time-conscious, patient and respectful. "That is a plus to them and I'll like to keep working with them," commented director, Neba Lawrence.
Press Attention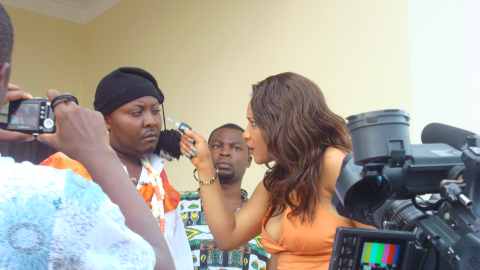 The press in Cameroon is still lukewarm to film production in the country. The media pay little attention to the struggle to build the industry. Unfortunate! Some observers have ventured that press attention can only be drawn when news-making film stars come to Cameroon. Was that the case this time, with the coming of Emeka Ike, Tonto dike and Kalu Joyce? If one goes by the Ayi Chatou Inoua production, one would say without gainsay that it is a truism. A CRTV reporting van was spotted near a Monté Jouvence location. Two reporters jumped out of it and were found negotiating interviews. Also, the Yaounde BBC correspondent was spotted with his reporting tools covering a shooting session. Good for the production, but it would do the local industry much good if the press covers shooting sessions of films with an entire Cameroonian cast.