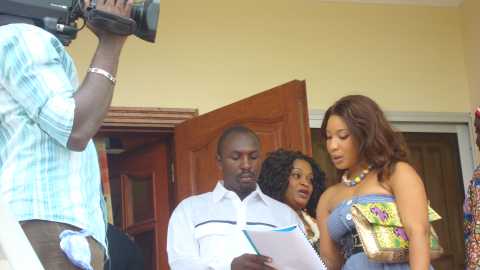 One of the most gigantic trans-national film productions ever has just taken place in Yaounde, capital of Cameroon. Shooting of the Neba Lawrence film rounded off a few days ago. The Ayi Chatou Inoua production has been described as one of Cameroon's most challenging movie projects in recent times. It brought together a cream of Cameroonian actors and some of Africa's bests from Nigeria. One of Nollywood's pioneer actors, Emeka Ike was on board, accompanied by Tonto Dike, now the most sought for actress in Nigeria and Kalu Joyce, also a talented elderly artist.
Together with their Cameroonian counterparts, the actors delivered to the utter satisfaction of producer Ayi Chatou Inoua, a University of Yaounde II, Soa student, director Neba Lawrence and Director of Photography (D.O.P) Ngozi Nkebakwu, from Nigeria. Neba called the shots as NG 1 (as the talented cinematographer is fondly called), pointed the camera at the displaying artists. They flowed, were flexible, refined in speech, exact in facial expressions, smiled when they needed to, laughed when they had to, shed acting tears when it was called for, frowned when it was time to do it.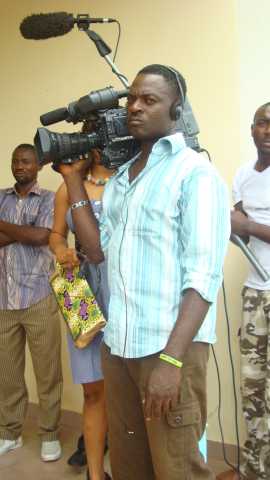 For 11 days, the Sun beamed its natural light on the actors and crew in the day, while the lighting technician beamed his at night. So, Neba, NG 1 and the rest of the crew had little or virtually no sleep. The missing sleep is probably what they are catching up with now, but they will only find proper sleep when the movie, whose title is yet to be suggested, would have been released. Or, should we say when they would have been given a pat on the back for a job well done? At the end of the shooting, Emeka Ike expressed his total satisfaction. To the Nollywood star, it was another experience, shooting in Cameroon and having to speak French. "The link has been established and I intend to collaborate with Cameroon and share my knowledge with such hospitable and hard working people," he told us. The Africa movie icon also praised the courage of the young and daring film director, who to him is not only soft-spoken, but is talented. "I'll like to work with him again and again," he said. [See full interview in subsequent updates].
The Ayi Chatou Inoua movie is an entirely Cameroonian story set in the Bakossi land, South West region. Love, hatred, envy, disrespect, dethronement, enthronement, etc, characterise the story, starring Solange Yijika, Muma Pascal (Bob), Quinta Eyong, Quinta Eyong, Ngongang Janvier, Eyo Eyo Michael, Tabe Oben Edward. Also featuring are Lynno Lovert, Alien Tiku, Nina-Marie Eyep-Nsok, Bih Nathalie, Nsuh George, Nche Francis and Mabel Nchini. Post- production begins soon.
This production comes a few months after another Cameroon-Nigerian co-production by Agbor Gilbert, unarguably the most instrumental person in the now healthy collaboration between Cameroon and Nigeria. Just a couple of months ago, Jim Ike and Paul Obazele visited the country. Earlier, other Nigerian actors came to Cameroon for projects, including Patience Ozokwo, Nonso Diobe, Zack Orji, Emmanuel Franz Charles Awurum, Clarion Chukwuka and Dakore Egbuson. The Cameroon-Nigeria co-production initiative kicked off in 2003, thanks to Splash Network, one of the pioneer film houses in Cameroon. Watch out for face-to-face interviews with the Nigerian stars, on this site.
Crew
Story..........................................Ayi Chatou Inoua
Costumes....................................Fokwa Odette
Sound.........................................Bah Ernest
Production Assistant...................Tiku Alien
Production Manager.....................Serge N. Ngouffo
Production Coordinator................Agbor Steve (Big Steve)
Director of Photography...............Ngozi Nkebakwu (NG 1)
Producer......................................Ayi Chatou Inoua
Director........................................Neba Lawrence C. (Mforlems