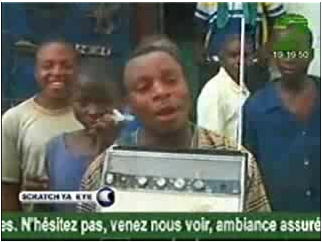 Until you clean your eyes well, you can't see Pa Tom. Yet, the talented comedian sees everything you do and does not spare any effort to bring it to the open via "Scratch Your Eye", a satirical pidgin news show on Canal 2 International. Ayuk Thomas Fotang (Pa Tom) is a household name on radio. For over six years, the young comedian and broadcaster has displayed an enviable spirit of creativity, winning thousands of hearts. "Scratch Your Eye" (Wednesdays and Saturdays) has not only become a reference, but is one of the shows on which the Douala-based channel relies for audience. "It's thanks to my spontaneity and humorous nature," Pa Tom told us.
Perhaps, "Sweet Bottom Belly" is one of greatest success stories Pa Tom would live to remember.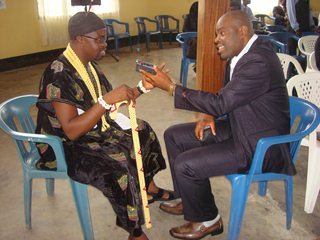 It is a one-hour daily pidgin news show on the radio version of Canal 2, Sweet FM. Here, the indefatigable Pa Tom, from Ewelle village in Manyu Division has created an indelible mark in the art he knows best, attracting hundreds of calls from listeners nationwide. Grand Pa, a slot on the show has not only been a display of satire, but has provided answers to society's numerous problems. This and other contributions to the development of the youth recently earned him the title of Nfor Kang (King of the Youths).
Then, stardom has set in. On the street, every eye is on Pa Tom as his fans crowd him. How do you manage that? "I stretch my hand to everybody, especially the down trodden, for, humility is a virtue," Pa Tom explained.
Away from television and radio, the Sweet Bottom Belly lad does stand-up comedy shows at wedding and other ceremonies, in a bid to keep the art alive. He encourages aspiring comedians to join him, work hard, believe in themselves and be creative. "They will be successful, if they did that," he said.