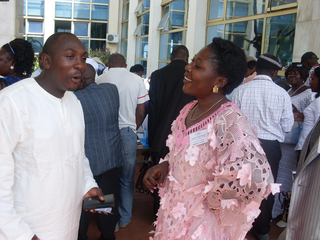 The status quo has been maintained at the National Civil Corporation for Audio-visual Arts and Photography, SCAAP, following elections to the new executive committee recently. Douada Mouchangou, a former CRTV producer was re-elected by acclamation by SCAAP delegates coming from all over Cameroon. The GA took place at the Yaounde Conference Centre, thronged by actors, producers, technicians and the representative of the Ministry of Culture.
Perhaps what caught the attention of www.tiptopstars.com was the presence of Collywood stars. They came in their numbers, clad in beautiful attires, just like stars would do. We spotted CFI caretaker committee head, Waa Musi in something like Yuruba outfit - purple. We saw how Musi and our French-speaking brothers embraced each other, an indication that the collaboration is working. From where we were spotting them, one could tell, from the cordiality that the film makers were looking ahead for the benefit of all, after all, we are one and indivisible. Tiptopstars also spotted Vugar Samson, call him Grand Pa, Coordinator of the National Actors' Guild of Cameroon (NAGCAM). As usual, the talented actor, clad in some fitting Afritude, saluted guests to the Conference with a soft voice. "You're doing a great job," Grand Pa told the Editor of Tiptopstars at the entrance into the hall. The Editor had joined a discussion Grand Pa was having with Collywood's Raphael Akuru, NW regional coordinator of CFI, Rickstone and Kontai Aloysius. Akuru was sparkling in a grey suit. "I like your attire," Akuru told Tiptopstars' Editor. We spoke at length on how we can feature more of Bamenda in both Among Youths and www.tiptopstars.com. Further inside, Vivian Nintai was registering delegates. Our cameras caught her. "Oho, I knew you would be here, hahahaha," Nintai greeted. Apparently, the Jedida Pictures boss was stealing the show as every other film maker went up to say "hello".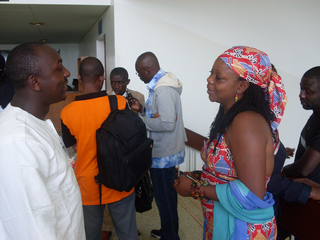 We walked out again and happened on Naah Joyce. "Wow, you've been missing," Joyce said. She was natural as usual and we discussed about her up-coming projects. She introduced us to a French-speaking counterpart with whom we took pictures. "I've watched you in Illusion," I told the next movie star, Atine Zenabou who did not recognise the stranger. "I'm Ernest Kanjo," I told her. "Ah, nice to meet you," the Bamenda-based actress replied. Then came the popular Princess Adama. She looked pretty good (see her attire in a story dedicated to her). Adama was as lively as usual. She would make the other stars laugh. Our camera zoomed further and caught Neba Lawrence, Mr Youngest. Clad in immaculate white "leine" (don't mind the spelling), Larry, as I call him provided light to several hearts with his ever appealing smile. Everyone seemed to be so interested in the young film director. We gave him a copy of the Quail newspaper that had carried an article on the launch of Clash of Inheritance which he directed, but Larry would rather prefer to buy it. "I've to promote the paper Grand frère," as usual, he offered. We turned around and who did we spot - Musing Derick. "You did a great job," we told him. Surprised, Musing asked what great job had he done again. "Clash of Inheritance was properly edited," we told him. Humbly, Musing appreciated the compliments. By the time we were leaving the Conference Centre to catch up with another movie event, many more Collywood stars were streaming in for the SCAAP GA. They were gorgeous as well.