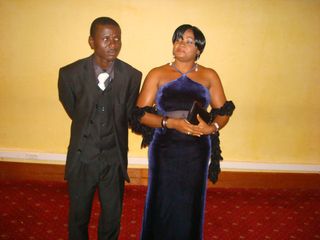 Collywood is one movie richer. Clash of Inheritance, an Agbor Steve Ebai (Big Steve) film was launched in Yaounde at the close of last week in Yaounde and Buea. In Yaounde, hundreds of movie fans and Cameroonian film makers thronged the Hilton to welcome the new born in the now thriving Cameroonian film industry. Guests to the premiere were treated to a projection of what many have described as a technically and aesthetically successful production, made in Cameroon. Agbor Steve, the producer calls Clash of Inheritance a "block buster".
It is this explosive Collywood movie Jimla Nene Shadzeka, popular CRTV breakfast show presenter, one of the MCs for the evening urged Cameroonians to procure and savour with the required appetite. "After all, the movie meets the standards of a high quality product," she said.
Shot in Mamfe, Clash of Inheritance delves into the intricacies of succession in a typical Manyu society, showing how it can lead to unforeseen tragedy. The two-hour long film is directed by Neba Lawrence Mforlems, featuring Muma Pascal (Bob), Tanyisong Candylaurice, Quinta Eyong, Janvier Ngongang and Solange Ojong. It will also be distributed in Nigeria, Ghana and South Africa.