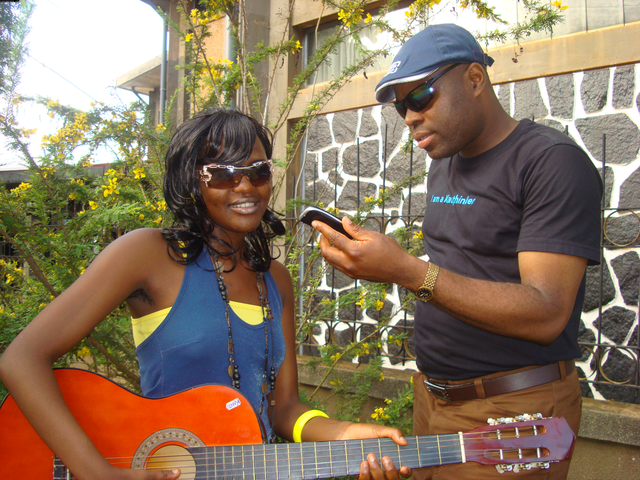 Njobati Sylvie a.k.a. Vehany is God-given in music. She shuttles between bikutsi and makossa, and then with much ease, sings R&B and Hip-Hop. As first year student in the University of Yaounde I who reads English, she has composed 42 songs, nine of which will feature in her maiden album. Songs in the album will include; Day Of Rupture, Never Mind, All Is Well, Music Cheers You Up, The Irreplaceable Mom, Days Of Joy, A Better Tomorrow, Don't Give Up and Different Aims, Different Ways, Different People. Her only setback for now, she says, is the lack of a producer. Vehany spoke to Tip Top Stars Senior Editor Ernest Kanjo in Yaounde recently.
Excerpts:
Ernest Kanjo (EK): When did you start singing?
Vehany (V): I started singing at the age of 9, then a primary school pupil in Kumbo, North West Region of Cameroon.
EK: What inspired you into singing?
Vehany: I got inspiration from my family where everybody sings. I was also inspired by Celine Dion and Whitney Houston of great repute. I can't also forget Jordin Sparks and Keri Hilson.
EK: brand of music do you do?
Vehany: Makossa, bikutsi, RnB, Slow jam and Hip-Hop.
EK: How come you're doing all these brands?
Vehany: It's just God-given. I sway from one to the other upon demand. It's quite easy for me.
EK: How many songs have you composed so far?
Vehany: 42 including five bikutsi pieces, five makossa tracks, six Hip-Hop tunes. The rest are slow sounds and RnB.
EK: What do you consider when composing?
Vehany: Societal ills and the plight of the downtrodden are the main things I look into. I also exploit themes such as love, happiness and hope.
EK: Have you done any public performances?
Vehany: With my choral group in Bamenda. I use to perform in school during social and sports events.
EK: Which school?
Vehany: Presbyterian Comprehensive High School, PCHS Kumbo.
EK: Your maiden album is yet to be released...
Vehany: Yes, that's if I find a producer.
EK: How much longer are your potential fans going to wait?
Vehany: For as long as I'm going to find a producer.
EK: Any efforts to find one?
Vehany: I've been trying to expose my work via the media, particularly Among Youths magazine. I hope to find a producer soon.
EK: Why would a potential producer be interested in your work?
Vehany: I'm quite convinced that I'm sufficiently talented. My voice, lyrics, beats, assiduity are enough to attract the attention of any serious producer.
EK: Apart from the lack of a producer, what other problems do you face?
Vehany: Compromising my school schedule and time for music is hurculean. I've also come across unscrupulous so-called producers who require sex before helping me out.
EK: How do you manage such a problem?
Vehany: I remain steadfast and denounce such immoral approach. Probably that's why I still find it difficult to have a producer so soon.
EK: Are you confident you're going to find a producer soon?
Vehany: Sure! Good things never remain hidden.
EK: How can a potential producer reach you?
Vehany: through my various contacts: This e-mail address is being protected from spambots. You need JavaScript enabled to view it
EK: What is your height?
Vehany: I'm quite tall...hahahahahaha 1.72metres.
EK: Your best traditional dish...
Vehany: Fufu corn and "njama njama"
EK: Your best colour...
Vehany: Blue
Ek: Your best Cameroonian musicians...
Vehany: Jean Pierre Esome and Charlotte Mbango.
EK: Your best foreign musicians...
Vehany: They are many, it's difficult to cite.
EK: Your hobbies...
Vehany: Singing, dancing, playing volleyball, reading newspapers.
EK: What other skills do you have?
Vehany: I can also be very good on a movie set, having been inspired by Nollywood's Ini Edo who's my role model. You may like to know that I'm a flexible actress who can fit in any role. I like being a hard character that won't spare any chance of telling off her detractors in the story.
EK: Your educational background...
Vehany: I'm currently of student of the University of Yaounde I, reading English Modern Letters.