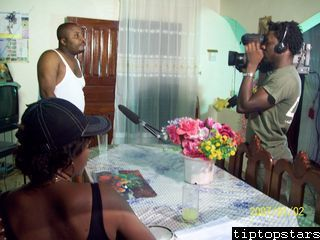 The film industry in Cameroon is one movie richer. Clash of Inheritance has been born to the film family and is ready for consumption. Produced by Agbor Steve, the two-hour long movie, shot in Mamfe will be launched on 4 June at the Yaounde Hilton in Yaounde. According to the producer, the event has been placed under the auspices of the Minister of Culture, Ama Tutu Muna. Also, Manyu elites, university dons, artists and businessman are expected to join Clash of Inheritance producers to receive the new product. The presence of one of Nollywood's most popular poster designers, Daniel Ilechukwu has equally been announced.
Already, wallpapers of the Chrono Entertainment film have flooded some big towns in Cameroon announcing the arrival of what cinema critics have described as an excellent piece of literary work.
Clash of Inheritance is an indigenous film that highlights the struggle for succession in the Banyangi clan. It is written by Agbor Steve Ebai aka Big Steve and directed by Neba Lawrence. Featuring in the movie are Eyong Quinta, Muma Pascal (BOB), Tanyisong Candylaurice, Solange Ojong, Aaron Nkongho, Ngongang Janvier and Ebang Ethel.
Clash of Inheritance comes after Phoenix Scar, Agbor's maiden production released last year. There has been an increasingly rapid entry of Cameroonian movie into the market within the last couple of months. Just a few days ago, Another Chance and Double Betrayal, from Bamenda, saw the light of day. Meanwhile, A Woman's World, produced by University of Buea Chemistry student, Itambi Delphine is less than two months old in the market.