"KUMBA WILL BE MOVIE HEAVEN SOON" - NGANGUM MATHEW (CFI, KUMBA)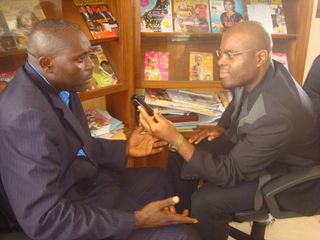 I'm a photographer by training
I got into movies way back in 2003
I've featured in several movies
I was appointed as Kumba CFI coordinator
In Kumba, we don't joke
Kumba is vociferous
Yet, we are in peace with NATCO
Let's partner with Nollywood for the market
Serve me with a sumptuous plate of achu, then you'll be my friend
I made a stop-over at an Obili snack where Yaounde actors had gathered to register for an auditioning. The up-coming movie in question was going to have Nollywood's Pete Edochie, Kanayo-O-Kanayo and Ngozi Ezeonu starring. We were still to know the Cameroonian actors who would join Yimbu Emmanuel, Muma Pascal and Solange Yijika in the Joe Walkie Foundation film. Joe Walkie is one of Cameroon's most renowned cultural promoters, based in Kumba. He will be guest on this Face-to-Face chat in its subsequent editions. So, Yimbu cornered and said someone wanted to talk with me. Fred Fondo is fast becoming a household name. He was in town and needed to see me before leaving. I was happy I had to meet the young man whose movie Another Chance attracted my attention. Yimbu was telling me about Fred but had some other person besides him who was equally happy to be meeting me. He too had to have a word with me. To me, that was Fred Fondo, whereas the Bamenda-based producer was not present at our conversation. I begged to attend an event at the German Cultural Centre, Goethe Institute before coming back to talk with my film stars. Off, I went. Fortunately, the event lasted for just a while and I was back. I immediately cornered the person I thought was Fred Fondo to make arrangements for our interview. Ask me how I knew he wanted to discuss an interview with me. Even if he had something else to tell me, I was going to interview him, after all, he like others in the industry matter. So, we talked for a while and before I knew it, Yimbu came telling me it was time to meet Fred. "But, I have already met him," I told Yimbu "Isn't this Fred?" I asked. "Emmmm, no.., you've been talking with Mathew, the CFI coordinator for Kumba," said Yimbu. "There you go again, Ernest Kanjo...you won't stop amazing me," I cursed myself. Well, I met Fred and we talked. Read the interview I'll have with him in the coming weeks. I returned Mathew Ngangum. I have heard quite much about him and his dynamic Kumba CFI branch. I was happy to have met him. "Let's have an EWEK chat tomorrow," I suggested. "It's ok, though I'll be travelling back to Kumba tomorrow. Mathew showed up the following morning. He is such a dynamic young Cameroonian who would inspire any aspiring film maker. His wife and two kids, Ngaleg Ethel Tiako, (4 years) and Ngangum Augustine Ngalle (7 weeks) will definitely be proud of a father and husband who would spare no effort in catapulting the young film industry in Cameroon to a enviable achievement. That is why the CFI branch he is heading has enjoyed the greatest acclamation this far. He was another interesting guest on EWEK.
Excerpts:
Ernest Kanjo (EK): Who is Ngangum Mathew?
Ngangum Mathew (NM): I'm a photographer by training who eventually got into film production, thanks to the passion I have for it. I belong to the National Union of Photographers in Cameroon where I head the Kumba branch. I also run the Ngangum and Sons Centre for Movies and Cultural Production.
EK: What inspired you into photography?
NM: I was inspired by a school teacher who had a camera. I would run behind him while he took snapshots. I actually hit the photography road when my brother sent me a video camera from abroad.
EK: Explain how you got into movies
NM: I would play with my video camera, taking shots and working on them. I got a few persons together and decided to shoot something. That was in 2003. Soon, I realised we could be serious and do something better. That was my debut. That year we shot Horrors of Wealth which unfortunately has never been released.
EK: Did this discourage you in any way?
NM: Yes, but I learnt that movie production went beyond shooting. I needed more equipment. I acquired more equipment and went back to the field two years ago for a new project.
EK: Which is this project?
NM: My Destiny, which is already in the market.
EK: What does the story seek to portray?
NM: It deals with family conflict in a typical African context, condemning hatred, gossip and murder.
EK: What did it take to realise the project?
NM: Time and money.
EK: Like how much?
NM: About 6 million FCFA.
EK: Who are the actors who feature in the movie?
NM: Foretia Clara, Toya Robert, Tabot Pepsi and Kegham Patience.
EK: Are you envisaging a next project?
NM: Sure, The Male Child will see the light of day in December this year, hopefully. It will be shot in West region. We will audition actors from all over the country.
EK: We hear you are also a good actor...
NM: So you say...hahahahahhaah! Well, I have featured in several movies including Dilemma, Hidden Killer, The Calabash, My Wife Your Mother, Difficult Task, Sacrament, Hotel Vianello and My Destiny.
CFI KUMBA
EK: How did you become the Kumba CFI interim coordinator?
NM: I was one of the founding members of CFI in Buea. As we left Buea, we were tasked to create branches in our various towns. I was appointed to head Kumba as an interim coordinator.
EK: Close to nine moths later, what would be your assessment?
NM: We've come a long way. There has been a significant change in perceptions. Film production in Kumba has taken a completely different dimension.
EK: Explain the organisational set-up of CFI Kumba
NM: We have a 12-man bureau with sub committees.
EK: We hear Kumba is very committed to the CFI course...
NM: That's true! We have 96 members who meet on Mondays to discuss serious issues affecting the industry. We have weekly training sessions where members expose on the various aspects of film making. Ahead of any big event, we meet twice to prepare.
EK: What is the relationship between CFI and the Kumba public?
NM: The public is very positive about us. They would massively turn out for film launches and show concern.
EK: How would assess movies done in Kumba?
NM: There has been great improvement. We are at 65% now. You'll hear us soon!
EK: CFI Kumba and NATCO...
NM: Both relate well. We in Kumba do not chew words. When we are angry, we come out like one man and air our grievances. But once, the problem is solved, we are calm and get down to work.
EK: What is the place of Kumba in film production in Cameroon?
NM: Kumba is an important entity, that's why we've had several Kumba movies on one of the leading Pan-African entertainment channels, Africa Magic.
EK: Cameroon-Nigeria joint projects...
NM: This is mainly strategic. We want a market, don't we? Nigerians have pledged to treat our movies like theirs, meaning that we are sure to sell 30,000 copies for each movie done here. But, on condition that we will feature at least, one of their stars. We can then try to market a meagre 1000 copies back home. Hope the situation changes. The partnership with Nigeria should not be seen in negative terms. We even intent to get into a more conventional partnership with Nigeria.
EK: Who are some of the people in the industry who inspire you?
NM: Joe Walkie, Njifoti Victor, Gobina simon, Kanwa Anthony, Yimbu Emlmanuel, Ale Mbiayo, Tegu Mathia, CRTV's Galos, Muma Pascal and the late Makia Mbue.
FACT FILE
EK: Your height...
NM: 1.65 metres
EK: Your hobbies:
NM: Reading
EK: Your best traditional dish...
NM: Achu
EK: Your best colour...
NM: Blue
EK: Your best Cameroonian town...
NM: Buea
EK: It was nice talking with you.
NM: I enjoyed the chat. See you next time and thanks.