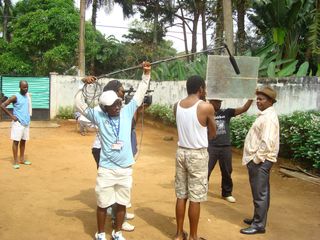 Reactions have been flowing into our Yaounde newsroom since My Successor went on the CRTV airwaves. The first four episodes of the entirely Cameroonian serial hit small screens on Tuesday, 31 March 2009 amidst excitement from millions of viewers who have been on CRTV's neck, demanding for locally produced films on their television. "My Successor on CRTV is a dream come true," said a viewer who wrote to Tiptopstars. "I can now watch something in English that makes sense to me," she added. To Paulette, My Successor will inspire many more youths to get into acting. "I have the impression that the serial will serve like an eye opener to Cameroonians who had been dragged into believing that interesting serials could only come from Latin America," she told us. And continued: "I'm already considering acting after watching the first two episodes of My Successor." Over at CRTV, the reactions have equally been positive. Speaking on the National Station's the day break show, "Morning Safari", Deputy Director of Programmes, Ephraim Banda Ghogomu was positive about My Successor, urging Cameroonians to watch and enjoy on. Asked if he was sure My successor met the standards set by the state-run television for productions coming from outside. "We put in everything to ensure quality," Ghogomu replied.
On his part the producer Godwin Nganah explained why Premier Films has opted for serials instead of normal length movies. "We want Cameroonians to always have something to watch and be entertained," he told "Hello", the breakfast show.
My successor is shot on locations in Yaounde, Bamenda and Limbe, starring Chinepoh Cosson, Tita Ernestine, Maureen Abia, Njoya Grace, Tume Balon, Vugar Samsom, Marinus Fotoh, Victor Lembe, Borno Evelyn, Chiatoh Collins and Iya Wase. Also featuring are Chi Anthony, Fri Louisa, Eugene Yusibom, Efeti Moka, Mbongho Junior, Bih Nathalie and Christian Tcaptcheck. It is directed by Asaba Ferdinand alias Penda, with Didi Lobe as Assistant Director, Buminang Elvis as Cinematographer, Elvis Tanwie as Continuity Artist, Tanko François as Light Technician and Onya Valentine as Production Manager.