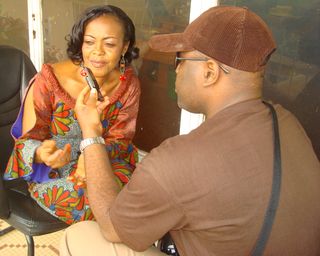 A woman with a different! That is certainly the best way to describe Tume Balon Fadiya, one of Cameroon's elderly actresses who inspire many young girls aspiring to get into the film industry. "She's my role model," says Fancy, a Yaounde-based rising actress. Even as a child, Balon Fadiya, from Bui Division in the North West Region would always sing and act to entertain guests at home or in elsewhere. In her resided acting skills. In 2003, Nollywood actress, Patient Ozokwo, another elderly actress of great repute discovered these skills. "She asked me to get into acting with no reservation and forge ahead even if there was little or no money in the industry yet," she reveals.
Since then, Reme, as she is sometimes called has been active, giving out her best. Her thrilling performance is definitely what makes the following Zoomers Pictures movies exciting: Public Order (2006), Taboo (2007), Muele (2008) and The Match (2008). She has also featured in two giant serials - Ancestral Wrath and Premier Films' My Successor. Both serials will be projected on CRTV.
To the member of Zoomers Pictures, it requires hard work, commitment, determination, time consciousness and the fear of God to succeed. "I pray aspiring actresses should take these into consideration," she says. And adds: "If they did that, they will be the great actresses Cameroon needs."
The 1.58m-tall actress also sings and would always watch Cameroonian movies and listen to music.