It's over a week now since one of Cameroon's most gigantic telefilm projects began, at least for the phase of the production. Shooting of My Successor (MS), a Premier Films production has been going on unperturbed in Yaounde, Cameroon's political capital. Already, the My Successor crew has been to locations in neighbourhoods such as Centre (Etoug-Ebe), Tam-Tam (Biyem-Assi), Biscuiterie (Biyem-Assi), Tongolo and Quartier Générale (Ngoa-Ekelle). Unlike at internal locations, outdoor shooting has not really known peace, for obvious reasons. Cameroonian onlookers are hardly accustomed to a man carrying a tripod and a camera and another man trailing him with a long teal on which a mic is attached. It is even more strange when they find three or four people on a set repeating the same action as one other man, looking into the lens of the camera, calls the shots, thus…action!!!!! They would habitually plant themselves at the background to be spotted by the camera, even when they are advised to pay little attention to what is happening. All the same, the MS crew has been grappling with this and onlookers are gradually being tamed. Meanwhile, there has been a generally positive appraisal to this first phase of production, more than a week on. This reporter sampled some views after yesterday's shooting.
Asaba F, Penda (Director): "Wonderful Time With Crew"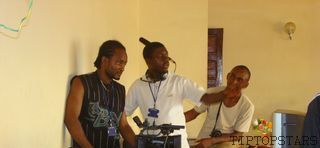 It's been wonderful working with the crew of MS. I have not had any major difficulty so far. The actors follow my instructions correctly and perform well on set. They have been giving me just what I want. The D.O.P has given me the shots and I hope that's going to be the case for the rest of the shooting exercise. The rest of the crew has assisted me quite much and this is a clear indication that MS will be a great success. I'm satisfied so far.
Buminang Elvis (D.O.P): "My Camera is Healthy"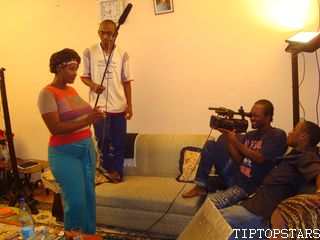 Everyone in the MS project has been very active. The actors have given in their best. You know when you are on the camera and have actors who perform brilliantly, you are more inspired and the images become superb. I'm particularly pleased with my HDV camera which has been very healthy, giving me the best of images. It's been wonderful so far and I pray it continues like that.
Didi Lobe (Assistant Director): "Everything is Intact"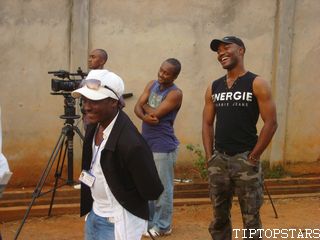 We've not been sleeping since shooting of MS began. We are doing everything to make it a worthwhile serial. That explains why each day, as soon as we leave the shooting ground, I rush to the computer and do pre-editing, call it rough cut. I've been doing that and it's been going on smoothly. The relationship with other members of the crew has been cordial and exciting. We make the working environment less tense.
Onya Valentine (Production Manager): "Satisfactory"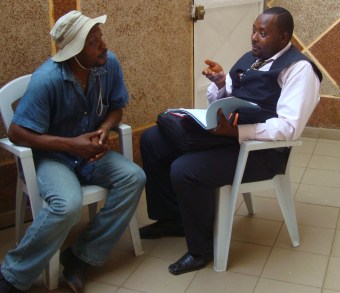 I must say as PM, I've had a great time with actors, actresses and crew members, a week into shooting. The actors have been particularly versatile and thrilling. The director, D.O.P and the rest of the crew have equally been very hard working. We have even been more productive than we expected. This has been very inspiring to me. I therefore ensure that every problem is sorted out diligently. I'm satisfied.
Yengo Yvonne (Actress): "Challenging but Thrilling"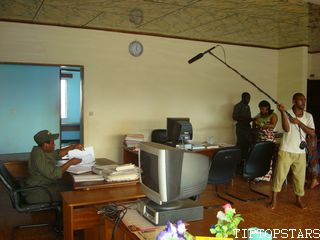 Each scene I shoot has been challenging. But I think I've performed thrillingly well, else, I would have been called to order. My lines were properly delivered and I enjoyed the whole exercise. My co-actors have equally been good. I've enjoyed interacting with them on set. It's just another lovely experience acting in MS.
Brian (Actor): "60% Good"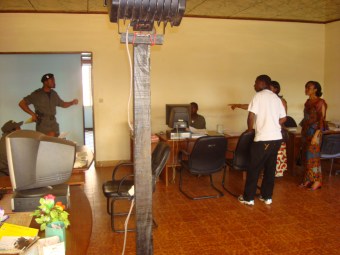 My performance has been 60% good. I think I could do better. But generally, it's been fantastic. I've enjoyed my role. I've also enjoyed getting into Police garments and saluting my boss each time he instructs me. The MS crew has been a great one.
Bobo Leenox (Make-Up Artist): "My Special Effects Playing the Tricks"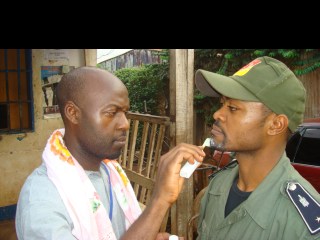 I've been ensuring that our actors and actresses look handsome and beautiful on set since shooting kicked off. Perhaps my special make-up and special effects are what have made the production a professional one with regards to make-up. The crew will always make reference to the special effect on pregnant woman and new-born baby…watch out for that when MS is released. I've not departed with my make-up box, it's always by my side.
Marinus Fotabong (Location Manager): "The sites are Appropriate"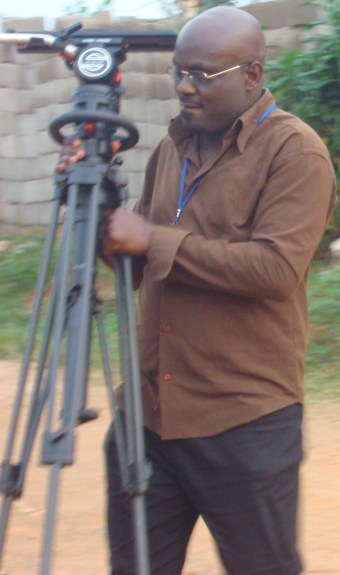 We've succeeded to have the kinds of location we needed for this production. We've used homes and offices of people who've really been kind to us. We are satisfied with that.
Godwin Nganah (Producer): "I'm Overwhelmed"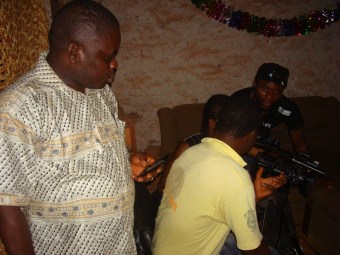 I'm overwhelmed with the professionalism injected in this project so far. I'm now convinced that crew is a serious one, ready to make MS a great serial. I have virtually nothing to reproach actors and actresses of. Rather, everyone in their domain have been thrillingly good. I must confess that I've been moved by a number of performances. Each time I've been moved, I've had to motivate. For example, the actress doing Esther and another had 5,000FCFA each from me as a way of showing my appreciation for their great work. You would have also noticed that I'm regularly present on location. This is to ensure that everything is in order. Also, there are a few changes that that are done on location which the producer has to be aware of. I also believe that my physical presence on location motivates members of the crew. I'm a happy man this far and hope we will be able to ride on smoothly to the end. I congratulate the boys and girls, they're quite talented