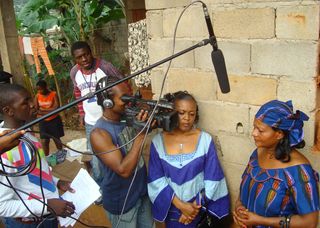 A powerful team of actors and technicians has set out for work. Goal: Serve Cameroonians with a palatable serial through the national broadcaster, CRTV. My Successor is undoubtedly going to be one of the most gigantic projects on CRTV in recent years. According to Godwin Nganah, author and producer of the 52-episode serial, My Successor is aimed at paying tribute to the late Victor Pungong who was a baron in the Cameroonian film industry. The fallen hero, producer of Trials of Passion according to Nganah, had influenced his life quite much. "I think it is my responsibility to take up the cue and continue doing what my late friend had as passion," he said on the eve of shooting. The producer called on actors, actresses and the technical crew to put in their best in order to make My Successor a serial to reckon with. "You would be marketing your skills to the outside world, if you did that," he explained.
Since 8a.m, Saturday 10 January, shooting has been going on in Yaounde. "We are glad everything is in order," says Asaba Ferdinand alias Penda, director of My Successor.
To Fri Louisa, actress, it's a maiden experience she will never forget. "This is the first ever long serial in which I'm featuring and I think it's a great challenge," she explains. And adds: "I'm bent on putting up a wonderful performance."
"Filming this serial has been exciting so far," Buminang Elvis, the D.O.P says. He adds: "The actors are fantastic."
The production manager, Onya Valentine has been awake since shooting began. He would dash in and out the location in a white car, ensuring that everything is in place. Regularly, he would inquire if there is any problem. "We are fine Mr Vally", the actors would reply.
Shooting of My Successor has attracted the attention of inhabitants of the neighbourhoods that serve as location. What about that……The serial is expected to be ready by March. It is yet to be confirmed when broadcast will begin. Fans of Cameroonian movies have expressed anxiety. "I can wait to watch the much-talked-about My Successor," one of them told this reporter. "I hear it's going to be a classic serial," said another.
THE CAST: Maureen Abia, Njoya Grace, Yimbu Emmanuel, Chinepoh Cosson, Tita Ernestine, Fri Louisa, Chi Anthony, Eugene Yusibom, Keti Sylvanus, Ofe Rose, Menget John, etc.
D.O.O: Buminang Elvis
LIGHTING: Frank
PRODUCTION MANAGER: Onya Valentine
PRODUCTION ASSISTANTS: Didi Lobe and Marinus Fotabong
DIRECTOR: Asaba Ferdinand (Penda)
SCRIPT: Godwin Nganah
PRODUCER: Godwin Nganah
FILM HOUSE: Premier Films